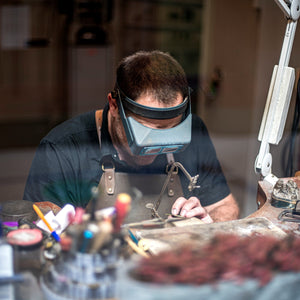 Bespoke Jewellery Design
Designed and hand finished in Norwich's Royal Arcade
The Bespoke Design Process
Creating new and unique pieces is our speciality. We are proud to have the most comprehensive and highly skilled jewellery workshop in Norwich, where we have combined traditional techniques with the best of modern technology to produce our work. 
Our designers are experts in Matrix - the jewellery industry's leading computer aided design (CAD) software - which means we produce photo-realistic rendered images of our designs. After an initial consultation with our goldsmith and designers, you will receive beautifully rendered images to consider all aspects in detail before committing to your bespoke order. 
Whether you are looking to create something from scratch or to refresh a piece of sentimental jewellery, our design team has a wealth of experience and creative inspiration; and whether you come to us with a clear idea of what you want, or no ideas at all, we will work with your own tastes and needs to create a design that you will treasure for years to come.
Get in touch to book an appointment with us about your own ideas.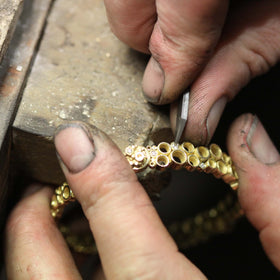 New Bespoke Design
We specialise in creating genuinely bespoke pieces, completely from scratch and designed by working directly with you. 
We produce precise images, drawn by hand or on the computer, which allow you to see exactly how your finished design will appear, before having to commit - no doubts, no surprises - simply beautiful unique designs just for you. 
Once the design and quote are agreed, we then ask for a 50% deposit to begin work. Your finished piece will then be ready to collect from 6-8 weeks later.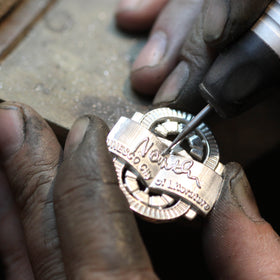 Bespoke Re-Design
We believe jewellery is made to be worn. Our jewellery remodelling service allows you to breathe new life into older or inherited pieces so that they can be worn by you or by future generations.
Gold can be melted and reformed, stones can be re-set and new materials can be added if need be, to help bring your new dream piece to life.
Whether working with new materials for your design, or incorporating your sentimental metal and / or stones, we will consult with you and advise you throughout the entire process to ensure there are no surprises - other than how beautiful it is when finished!